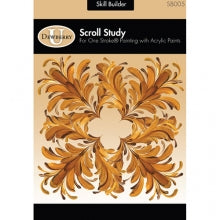 Skill Builder: Scroll Study SB005
Regular price $25.00 Sale
Scroll work is one of our most requested Skill Builder. The brush control and practice it takes to accomplish good scroll work will help you in so many ways!! This is another important building block that will be key to building your foundation and fine tuning your brush skills. As with the previous Skill Builder's we will be concentrating on a few techniques with different brushes, so you can learn the correct methods and have plenty of opportunity to practice.
You'll be surprised to see all you can do with just a few "Simple Strokes"
This is a continuation of Skill Builder SB003's Daisy Stroke and it is recommended that you complete SB003 to prepare yourself for this lesson. Remember, building the proper foundation will make all the other skills much easier to accomplish.
 
 
How to Complete Skill Builders
The best way to be successful with the Dewberry U educational program is to consult with your Instructor from the Dewberry U Faculty. Your Instructor will be an invaluable source for coaching and mentoring. They will have many tips and resources to help you be successful. To find a Dewberry U faculty instructor please visit our find a teacher page. Please make sure you select yes under "DewU Faculty Member?" option.
The Lesson and Evaluating Fees are standard with Dewberry U, not set by your Instructor. Your instructor will have the current pricing information available.
1. Purchase the Skill Builder Lesson from a qualified Dewberry U Faculty Instructor or online at Dewberry Crafts.
2. Each Skill Builder will have a unique serial number.
3. Discuss the best path to complete this Skill Builder with your instructor
4. It is always best to review the entire lesson first, to get familiarized with the course.
5. Gather all the supplies listed on the Supply List.
6. Complete all the Skill Builder requirements. The length of time this will take will vary with each individual.
7. Make an appointment to evaluate and document your completion, with the Dewberry U Faculty Instructor you purchased the Skill Builder.
8. There is no time limit on your completion, though your Instructor will follow up with you regularly.
Note: Additional fees may be incurred if you decide to attend "in-studio" classes to complete your requirements. Options can be discussed with your instructor.
 
 
PLEASE MAKE NOTE ALL SKILL BUILDERS ARE NON-RETURNABLE/NON-REFUNDABLE UNLESS DAMAGED IN WHICH CASE WE WILL SEND NEW ONE AT NO ADDITIONAL COST