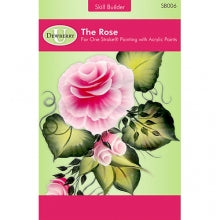 Skill Builder: Roses SB006
Regular price $25.00 Sale

 The Rose, The Rose, The Rose,... is by far our favorite lesson. However, this is not our easiest lesson. The biggest problem we have is that everyone wants to learn the rose first! This is just not practical. I know, Donna makes it look so easy. That's why we strongly recommend a few of our earlier skill builders before completing this one. They may not appear to have a lot in common with the rose, however you will be learning basic brush control and handling. This is very important and will make this lesson much easier to complete.
"Then you too can do it just like Donna."
This is another important building block that will be key to building your foundation with OneStroke painting. It will teach you not only The Rose but the important Heart shape leaf that goes with the rose. This leaf is the basis for many of the leaves that we use in OneStroke painting. And once learned correctly can be a joy to paint. So lets get started ...
It is recommended that you complete Skill Builders SB001 & SB002. This will show you how to load your brushes, paint rosebuds and simple OneStroke leaves that are part of this lesson.. Remember, building the proper foundation will make all the other skills much easier to accomplish.
Create GREAT habits that will become second nature."
We know that this skill may seem a little difficult and could easily be discouraging to a new or experienced painter. Our Faculty has the experience to help you succeed. With your practice and the help of your Dewberry U Faculty member, you will have a great time learning the Rose. Now it's time to get out your brushes and paints.
 
 
 
How To Complete Skill Builders
The best way to be successful with the Dewberry U educational program is to consult with your Instructor will be an invaluable source for coaching and mentoring. They will have many tips and resources to help you be successful. The Lesson and Evaluating Fees are standard with Dewberry U, not set by your Instructor. Your instructor will have the current pricing information available.Purchase the Skill Builder Lesson from Dewberry Crafts or qualified Dewberry U Faculty Instructor. Each Skill Builder will have a unique serial number. Discuss the best path to complete this Skill Builder withyour instructor It is always best to review the entire lesson first, to get familiarized with the course. >Gather all the supplies listed on the Supply List. Complete all the Skill Builder requirements. The length of time this will take will vary with each individual. Make an appointment with your Dewberry U FacultyInstructor to evaluate and document your completion. There is no time limit on your completion, though your Instructor will follow up with you regularly. Note: Additional fees may be incurred if you decide to attend "in-studio" classes to complete your requirements. Options can be discussed with your instructor.